This post is intended for an audience of adults age 18 and older. This post about How to Simplify Life in the New Year has been compensated by Collective Bias, Inc. and its advertiser. All opinions are mine alone. #CueTheNewYear #CueVapor #SatisfactionAtLast #CollectiveBias
Now that the holidays are behind us and the New Year has begun (I know, we're already TWO weeks in!), it's time to really buckle down and create those goals and let's start CRUSHING them right away! My first (and most important) goal for my family this year is to simplify life in the new year and today I'm giving you tips on doing just that. I've started a few of these things in my own home and you can see what works for your family. Let's make life more enjoyable and simple this year.
How to Simplify Life in the New Year
Declutter Your Home and Clear Your Mind
Anyone who has ever tried to simplify life will tell you that clutter and mess in your home is the quickest way to unhappiness and stress when you're supposed to be in your safe haven. Cleaning up your home from clutter and trash will bring peace to your family and clear your mind. I started with the obvious places in my home, that I suspect everyone has in their home as well – the mail dropoff and the clothing catch-all.
Cleaning up the mail dropoff and forbidding myself and my husband from dropping the mail there again is going to really ease my mind. Our mail dropoff is directly inside our front door so it's the first thing I see when I get home, creating a messy mind by seeing trash the second I walk in the door. The second room I walk into in our house is the dining room, which houses my clothing closet and the inevitable clothing catch-all (my son's abandoned gaming table). By hanging up all of the clothing and moving the table to his game room, I've eliminated my catch-all place and I'm forced to hang up the clothing as it comes out of the wash.
Whatever places in your home are the clutter gathering places, find them and eliminate them for a fresh start in the new year.
Simplify Your Gadgets and Eliminate the Waste
My husband is a vape enthusiast in our household and he enjoys a good vape system, but he's struggled in the past two years to find a system that works for him and doesn't create a mess (and trash) for us to clean up. He's tried the refillable vape systems and e-cigarettes, but the trash they generate and the mess they tend to make is just annoying. We've finally found a system that I think is going to work for him – enter the Cue™ Vapor System.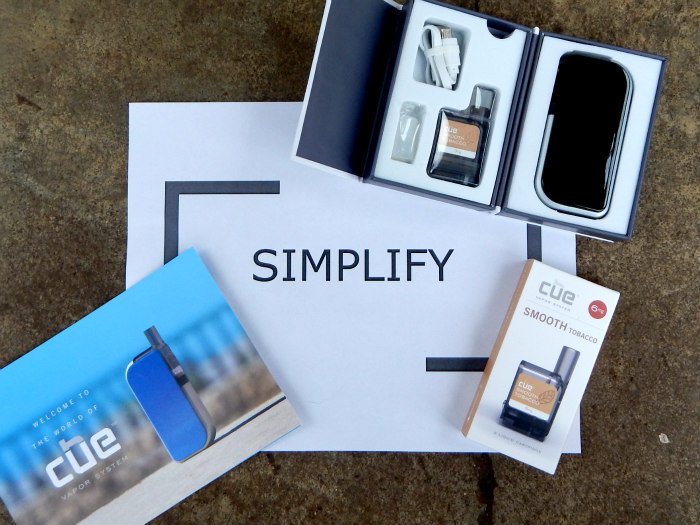 Click the photo above to begin shopping online for your Cue Vapor System now!
We ordered my husband's new vapor system and three cartridges online so he could try it out and see what he thinks. We've heard it is simple to use and less mess than other vapor systems. We've been pleased with the ease of getting it started and he's been pleased with the smooth tobacco vapor he receives when he uses it. We chose the black vapor system and the 6mg smooth tobacco cartridges, but there are so many options that anyone can customize their experience with this simple vapor system.
Cue. Vaping. Made simple.™ Beautifully simple. The all new Cue Vapor System provides choices in flavors, nicotine levels and device colors, for what you want, when you want. Elegant and high-performing, the Cue Vapor System includes a patented device and a pre-filled, disposable cartridge. That's all you need for the simplest premium vapor experience. The carefully-crafted Cue Vapor System provides vape-shop performance without the complexity.
Here's how easy this vapor system really is – Click. Vape. Repeat.
CLICK the power button five times (within 2 seconds) to turn it on and override the child safety feature. Remove all (4) silicone plugs from the cartridge and CLICK it into the system. For best results, insert the cartridge at a slight angle and CLICK into place.
VAPE with slow, small draws at first because the Cue will give a lot of vapor and you want to figure out what's best for your preferences.
REPEAT or replace the cartridge with different flavors or nicotine strengths to try different experiences.
Which flavors/strengths/color of system will you try first? Shop online here or find a store near you to pick up your system! You can also sign up for their subscription program and save 15% on cartridges!
Reduce Debt and Worry Less
One of the ways my family is planning to simplify for the new year is to pay off old debt and not create new debt. We're going to be spending less and paying off more. Last year was rough on us financially and we borrowed a lot more than we intended to, but this year is going to be different and we have plans in place to reduce our debt this year. Start by setting a budget on paper or a spreadsheet (we use an online spreadsheet with Google Sheets so we can both access it from wherever we are) and write down your debt. Make a plan to pay off the smaller debts first and build up to the larger debts. I'm sure you've heard of the snowball effect when paying off debt (if you haven't, just research it, you'll find a better explanation than the one I can give you). Getting rid of old debt and living on cash (and within your means) will help you worry less and create a more simplified new year.
Stay Positive and Don't Waste Your Time
Every day we come across life experiences that can try to make your day good or bad. Most times we cannot control the things that happen around us or to us, but it's our reaction to these experiences that will guide your day. Try to find the positive in every day events and don't let the negative thinking take up space in your mind. Focusing on the negative (or being in a bad mood) is a waste of time. It will not change the past and only ruins the present when you're preparing for the future. Practice positivity in your daily life and see how much simpler life can truly be.
Set Reminders to Simplify Life in the New Year
Set reminders on your phone or calendar to declutter or simplify your life in some way every day or at least once per week. Create reminders around the house (but not at the expense of your decluttering) like this sign that I've made for you. I used a simple, clean font with a simple, clean design to remind you daily that you are on a simplifying journey in your life this year. Feel free to click on the photo or pdf link and print for your own personal use.
Once you simplify life in the new year, you'll have time and energy for enjoying the relaxation and fun of life. You'll be able to sit back and enjoy your new Cue Vapor System in peace and look around at your clean and decluttered home with a sense of satisfaction.
How else can you simplify life in the new year?
NOT FOR SALE TO MINORS. California Proposition Warning statement: "WARNING: This product can expose you to chemicals including nicotine, which is known to the State of California to cause birth defects or other reproductive harm. For more information, go to www.P65.com. WARNING: This product contains nicotine. Nicotine is an addictive chemical. Cue™ the Cue Logo and Vaping. Made Simple.™ are trademarks of Digirettes, Inc.