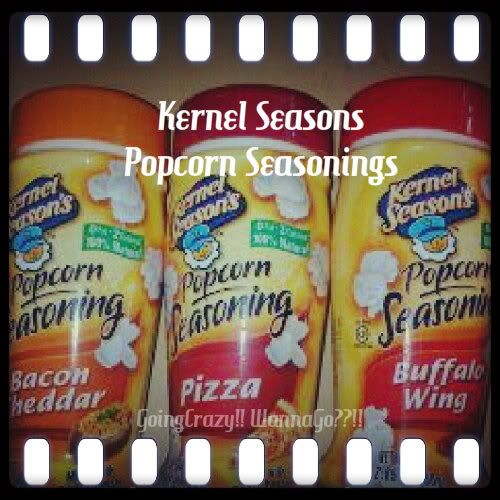 In my household, we are huge movie moguls. We watch everything from kids movies to documentaries to comedy. Since we don't go to the theater very often, we like to treat ourselves to a theater experience and include fun snacks like popcorn during our movie nights. However, sometimes unflavored popcorn can be boring so I like to to change it up by using Kernel Season's Popcorn Seasoning!!
We were sent three NEW flavors of Kernel Season's Popcorn Seasoning to try:
♦ PIZZA ♦ BACON CHEDDAR ♦ BUFFALO WING ♦
Even though I am married to a chef, I still grew up with a small town, country palette so I have to get used to lots of different flavors and sometimes I find it difficult. I was a little concerned when I saw what flavors arrived, but I am always good at trying new things at least once (except tomatoes, which I don't like, but I continue to try them because they look so darn good!) so I was happy to try these new flavors.
A few weeks ago, Hubby was off work on a rare weekend so we had some movie marathons and this was the perfect time to try out all of the flavors. We tried the Pizza flavor first. I could taste the tomato sauce flavor and definitely could tell this was pizza flavor. It reminded me of a particular brand of potato chip that has ridges and their pizza flavor.
Next, we tried the Bacon Cheddar flavor and this one is, by far, my favorite. I'm not exactly sure if Hubby or The Boy actually got to each much of it because I was digging in so much. I could taste the bacon and cheese in it!! Last week, Hubby made twice baked potatoes and used it as well and it was perfect.
Finally, we tried the Buffalo Wing flavor. Luckily, The Boy was asleep by the time we tried this one because it was HOT!! Now, keep in mind, I have no flavor palette so something that burned up through my sinuses and had me almost crying was barely phasing my husband. It definitely had a spice to it, but my husband and dad have a contest to see who can make hot wings for the other so hot they can't eat them. So, of course, Hubby ate this all alone. It was good…but too hot for this girl!!
---
About Kernel Season's
Most of the time when I find new products to try in the house, Hubby is happy to help me, but he's not overly passionate about things (well…unless it is food…because he is a chef) but Kernel Season's struck a place in his heart because it was founded by Brian Taylor in his college dorm room at the University of Michigan. Hubby is a fellow Michigander so he is always willing to support Michigan companies.
---
Gluten Free
January 15, 2012 – With consumers spending $2.6 billion on gluten-free foods in 2010 (Time Magazine), the gluten-free trend continues to climb in 2012 with unstoppable momentum. Kernel Season's® America's number one brand of popcorn seasoning, is proud to support consumers with gluten sensitivities with the announcement that its full product line is now certified gluten-free by the Gluten Intolerance Group (GIG).
---
 Learn More
Visit Kernel Season's on their website, No More Naked Popcorn (or KernelSeasons.com) where you can learn about the nutritious value of popcorn and what are the five different types of corn.
To find out the latest from popcorn FAQs to new flavors coming out (I can't wait to see if there are new flavors this Holiday season) follow on social media
---
Buy It
Kernel Season's flavors can be purchased online on their website or you can use their store finder to see if it is available near you!!
---
Check out the Kernel Season's website and let me know what flavor you would like to try first!!