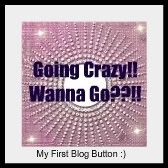 I spend a lot of time thinking about blogging. I think about what I wish my blog was like, what it was in the beginning, what it has become, and where I see it going in the future. I semi-participated in a Blogathon this past weekend and didn't accomplish much because of what I said was family responsibilities and exhaustion. I didn't get much accomplished as you can see from my Blogathon wrap-up, but what is the real reason?
Procrastination? Dissatisfaction? Writer's Block?
In the first few months of blogging, I searched for some avenues and ways to gain exposure to my writing so I began participating in a few memes. I remember really enjoying that writing and talking with my husband each week about what I was going to write. It was fun and cleansing in a way. Simply put, I just love writing about my family and my life and that is what I know the most about blogging from my original blog (from 2007).
One of the first things I remember about the memes I participated in was my excitement for Tuesday mornings when I would write from my heart and link up with Shanda from A Pause on my Path. I'm committing myself to getting back to this type of writing again.
I love writing about product reviews and really enjoy the reader interaction I see during giveaway events, but part of my new blogging schedule and gift to myself is a commitment to linking up to the memes I've loved and hopefully discovering new memes that will inspire me to write more – from my heart.