Dear Hubby,
As we get close to our 4th Valentine's Day and our boy's 4th birthday, I can't help but look back at where we have been and where we are now. When we met, we were two very broken people hungry for the love of someone else. We had both been in bad relationships and walked on and were living for our own selfishness. Our meeting was quick and headed for disaster because we were both so wrapped up in our own needs and wants and living for the satisfaction of our own sins. I can't believe we were both so doomed and we crashed into each other the way we did.
I knew from the first time I talked to you online that I liked who you were (even though that could have just been an online persona that you were portraying). You were playful and caring and your words were so much unlike the other people I had talked to and/or met online.
Who wouldn't want to meet this guy?!!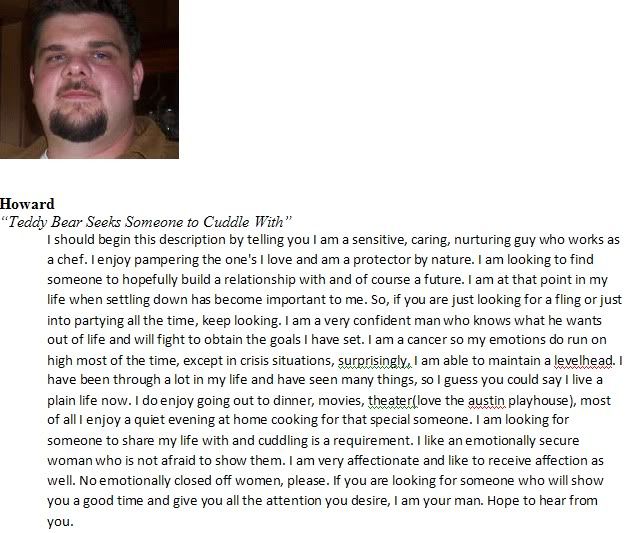 From the moment we met, I knew we were going to have fun together and pretty much had decided that you were my next broken heart because of that. I know that you have said you were in love at first sight, but I think that you and I were both so desperate for love that we saw what we wanted to see and unexpectedly we clicked.
Only weeks after we began indulging in our own negative views of love and relationships, our lives began to change in a way that you and I would have never guessed or dreamed it would.
We were pregnant. Do you remember when we discovered this (probably, because you're the one who told me that I was pregnant)? Do you remember how you felt or what you thought? Do you remember how awkward we looked at each other, each knowing that we wanted this baby so bad that we couldn't wait, but neither of us willing to admit it because we were afraid of what the other would say? Do you remember the relief and the love that we felt when we both blurted out that we wanted to have and keep the baby?!! Do you remember the nervousness we had when we knew we had to tell our families? We were both in our thirties, but I felt like we were teenagers!!
Things during that time just seem to blur together. We were planning a wedding and going to doctor appointments and celebrating our love for each other and this growing life inside me. We were happy and scared and nervous and excited all at once!! We had a dream wedding and moved back to my home town to be near my family. We had a beautiful baby boy who was healthy and happy and things were supposed to be so great…but there was only one thing that was holding us back and we were feeling the misery build between us.
Do you remember the day we were sitting in my dad's living room and you said, "a lady at the store asked me to come to their church" and I said, "let's go"? Do you remember the changes that happened in our life after that day?
I think that the reason this Valentine's Day and The Boy's birthday and our anniversary in October are feeling like such huge milestones this year is because we have made so many changes in the past two years. I look back at those (really kinda horrible) people who met one night after talking online and I don't even recognize them.
So, I just want to tell you that even though we've been through so much in the past 5 years, I love you more and more every day. I love you for who you are today, who you were then, and who I know you will be. I love you for the way you love our boy and take care of our family. I love you for the way you worry about us, about our future, about our family. I love you hanging in there with me when I was less than worthy and I love you for always thinking I'm worthy even when I'm not. I love you for the sacrifices you make for me and the family each and every day and for the selflessness that you show in every decision you make. I love you for getting up in the morning on the days you don't have to work just to make breakfast, get the boy ready, and force me out of bed. I love you for getting yourself up early on the days you do work to make breakfast, get the boy ready, and force me out of bed.  I just love you and I don't know how to express it the right way and I don't express it often enough, but I know that I will always love, that you will always love me, and that we will continue to grow together.
Love,
Me
————
I was offered the chance to write this letter in a Valentine's Love Letter Campaign. The campaign's goal is to engage individuals in intentional writing with a focus on beauty and excellence while creating awareness of their product at Grammarly..
Grammarly is an automated proofreader and your personal grammar coach. Check your writing for grammar, punctuation, style and much more.
In exchange for writing the letter, Grammarly offered me, or the person I wrote this letter to, a box of truffles. Some of the changes mentioned above that Hubby and I are making include getting healthier so we can expand our family and live longer for our boy.
In order to make the world a sweeter place Grammarly is sending an indulgent box of truffles to one of my dear readers.
All you have to do is comment below for your chance to win. Tell me who you would have chosen to write to or about or write the letter in the comment!! Maybe you would like to write the letter on your own blog and just link it up in the comment. I will choose a winner on Friday, February 10 at 9am CST and email that person for the address to send the truffles.
Good Luck and Happy Valentine's Day!!
This tender love letter is posted on behalf of a campaign by Grammarly grammar checker. Grammarly heralds the written word as an art form superbly apt at expressing heartfelt feelings.