Around my house, we do a lot of reading. The Boy loves books and he wants to read ALL the time!! I love this about him because I've always loved to read (and color, which he loves too!!).
We have tons and tons of cartoon books and picture books, but now that he is understanding more, I love when we find a book that has a good message.
Since I started reviewing products, The Boy gets super excited when he sees a new package on the counter and asks if it's a "prize" for him. He was jumping up and down when we opened this one and saw TWO books!!

Lisa Weidknecht – a good bloggy friend of mine – sent me a copy of each of her children's books to review and this was a package that I was just as excited as The Boy to receive!!
Read my Review of Raindrop Dream also!!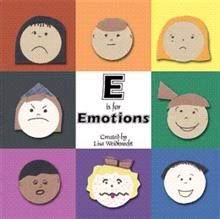 "E is for Emotions" will help your young child learn to recognize the multitude of feelings he or she experiences. Through the use of rhymes, one for each letter of the alphabet, this book helps to develop children's social and emotional skills. The story is told from a child's point of view and an example is given for each emotion. Sure to be a favorite alphabet book!
This was a great book to read for the first time to The Boy while we were sitting on the potty (sorry if that's TMI but we spend a lot of time in there – still training) because it's a little longer than a typical children's book. There are two pages dedicated to each letter in the alphabet (one for the words, another for the matching picture).
The Boy's favorite page – "B is for Bored: That's how I feel inside when I have nothing fun to play. Nothing seems to interest me and I sit around all day." – but that's because he recognizes B as the first letter of his name.
The illustration in the book is ADORABLE!! It looks like cut-out scrapbook pages in the the shapes to make the letters and the matching faces on the children. For instance, on the B page – the B, the girl's dress, and the sun all have a red with white squiggle pattern…again, ADORABLE!!
Some of the words to explain the emotions are still a little too old for The Boy, but he sat and listened to the entire book and laughed at the children's faces and asked about the ones that he didn't know. We've had a LOT of fun with this book!!

Lisa Weidknecht lives in Texas with her husband and three children. She has been an early childhood educator for 20 years. She earned her Master's degree in Early Childhood Education from the University of Phoenix and her Bachelor's degree in Child Development & Family Relationships from the University of Texas at Austin. She believes strongly in providing children the right environment and materials to facilitate learning and social interaction. "E is for Emotions" is Lisa's second book.