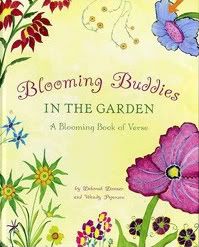 This children's book is more than just a book, it's a beautiful work of art!
My boy has learned lately that if a package comes in the mail that it is most likely something fun and new for him to play with or a book for him to read. When we received Blooming Buddies to review, he said, "Mommy, you got a prize too?!!" 🙂
Like a hug for the heart, Blooming Buddies is sure to spark your child's imagination. Blooming Buddies In the Garden features magical watercolors of flower friends paired with playful short verses that teach young children the values of kindness and respect.
Even though, The Boy thought it was for me because of the beautiful flowers, he was still interested enough for me to read it to him. The book is short and sweet, not too long to lose his attention, but there are messages on each page that talk about values and behavior, as well as friendship and playfulness. I took it to church and read it to the AWANA class and they seemed to enjoy it as well, especially the one 2 year old girl!!
My favorite page in the book has an illustration of two purple flowers, one smaller than the other, while three pink flowers appear to be "listening" to what they are saying. The prose on this page reads:
"We understand you're curious – Now here's a tip for you – When you see others talking – Please wait until they're through"
Blooming Buddies has offered to give away a copy of this book during the 12 Days of Christmas Giveaway Hop!! (on Day 3 – December 3)
Find Blooming Buddies on their website where you can buy their book, Buddy stickers, Art prints, and download free coloring pages!!
You can also find Blooming Buddies on Facebook and Twitter!!
Product Details:
Blooming Buddies In the Garden: A Book of Blooming Verse
by Debbie Donner and Wendy Peterson
published by Pixie Land, Inc. 2010
8″ x 10″ hard bound w/dust cover, 32pps, $16.99
ISBN 978-0-9825819-0-2
Disclaimer: I received a copy of Blooming Buddies for purposes of my review. This in no way influences my opinion of this book stated above. I really liked it!!