Hubby and I love t-shirts!! The more comfortable, the better!!
We are also pretty big people so it can sometimes be difficult to find affordable t-shirts that are fun and not just the solid colors with a geeky pocket on the chest.

I was excited when NachoMama Tees asked me to review their shirts…and then saw that they have t-shirts up to size 3X!!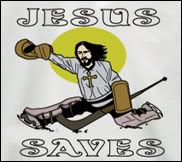 Hubby picked out the Jesus Saves Hockey shirt from the Funny Shirts section. Hubby loves Hockey and he's a new Christian so he just thought it was hilarious!! (His odd sense of humor is what I love so much about Hubby)
When it arrived, Hubby was thrilled to see that it fit great and was an excellent quality shirt. You know how sometimes when you order silly shirts or online shirts, you just get a lower quality…?
Not with NachoMama Tees!!!
The shirt is made of 100% preshrunk cotton and looks great!! Once washed, it didn't shrink or fade or peel…it still looks just as great as when it arrived!!
Hubby wore it to bible study just after he got it and everyone LOVED it!!
BUY IT!!
Check out Nachomama Tees and see all the different categories they feature:
80s t-shirts All Tshirts BEST Sellers Chuck Norris T shirts Cool t-shirts Daily Deal $6.99 Funny t-shirts Girls t-shirts Graphic Shirts movie t shirts St. Patrick's Day T-shirts Vintage t-shirts Zombie t shirts Cheap T-shirts