You saw my review of NachoMama Tees (we loved them!!) so when CrazyDog T-Shirts said we could pick out a t-shirt also…it was my turn!! I chose this Duck Duck Goose Tshirt from the Cool Tshirts section – because I'm cool like dat…haha!!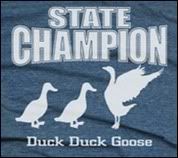 Of course I loved it too!! It's a great quality shirt and bright blue with white lettering and pictures. I've worn it just about every time it's clean now (it's staying pretty!!) and I always get a smile from someone. 🙂 It's so hard to choose just one, two, or three shirts from CrazyDog T-Shirts!!
BUY IT!!
Check out all the fun shirts (and more) in these categories!! 
80s T-Shirts  –  All Tshirts  –  Cheap T-shirts  –  Cool T-Shirts  –  Dog T-Shirts  –  Funny Creepers  –  Funny T-Shirts  –  Geek Gifts and Toys!  –  Gift Cards  –  Girls T-Shirts  –  Graphic T-Shirts  –  Hilarious t-shirts  –  Mens T-Shirts  –  Movie T-Shirts  –  New Tees  –  Novelty T-Shirts  –  Retro T-Shirts  –  Saint Patricks Day T-Shirts  –  Sweatshirts & Hoodies  –  Tshirt Designs  –  Video Game T-Shirts  –  Vintage T-Shirts